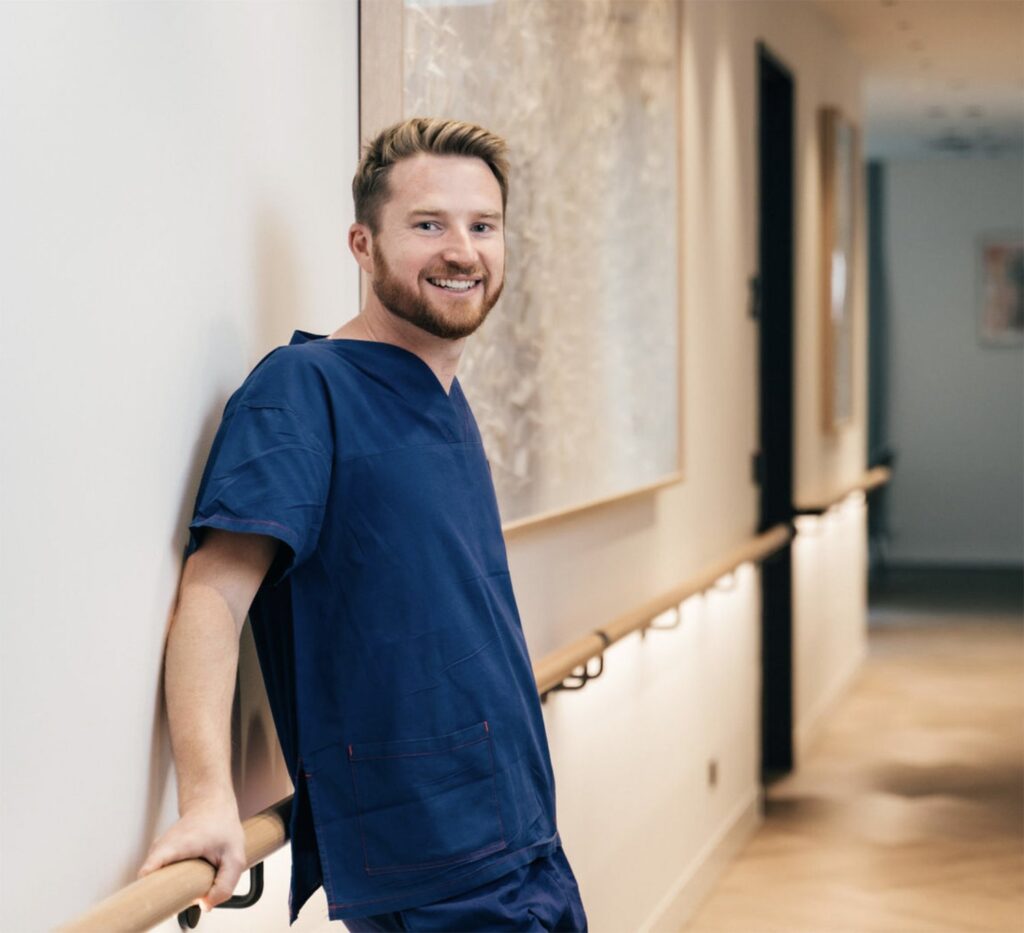 Dr. Manzie, or Tim as he prefers to be known, is a qualified Oral and Maxillofacial Surgeon who has subspecialized in Head and Neck Surgery. He has spent over 18 years training in all things head and neck. As a qualified Oral and Maxillofacial Surgeon, Tim has completed university degrees in both dentistry and medicine. He has worked extensive across Australia as both a dentist and doctor in training with positions in Queensland, Western Australia, Australian Capital Territory and is now settling into New South Wales (though he will always remain a Queenslander at heart). In his final year of training, Tim was fortunate to be awarded the Robert M Cook Medal for the highest mark in the Oral and Maxillofacial Surgery Examination. Following this core training, he has completed additional Fellowship training in Canberra and Sydney to enable him to manage and treat patients requiring removal of tumours and their reconstruction in the head and neck region.
Tim was raised on Bribie Island in Queensland, the youngest of four children. Tim, his father and sister are all dentists (and despite this are all allowed to show their face). His father, with support from his mother ran the local dental practice for over 30 years before retiring. Tim completed high school at Nudgee College before relocating to the Gold Coast to complete his dental degree at Griffith University. Tim initially started work as a public dentist in far north Queensland (Mount Isa) before relocating to Wollongong to commence and complete his medical degree. He returned to his beloved Queensland to work as a junior doctor before moving over to Perth to complete his surgical training. He spent four years here learning his craft, managing complex dental extractions, jaw cysts and tumours, facial deformity (orthognathic) surgery and facial trauma. This involved placement at the states only paediatric hospital (Perth Children's Hospital), as well as Royal Perth and Fiona Stanley Hospital. Following a year of border closures, Tim relocated to Canberra to commence fellowship training and after a year, moved to Sydney to complete his final year of fellowship at Chris O'Brien Lifehouse Hospital.
Tim married his Infectious Diseases/Microbiologist (bug-loving) wife in 2021. While yet to have kids, they are awaiting the arrival of their first dog together later this year. When not at work, he enjoys time in the snow (particularly Japan), being out in the water or out on the golf course. He is a survivor fanatic and will happily discuss this further with you (much to the annoyance of those around him).
Tim hopes his patients get to see his passion for his work, his compassionate, kind and relaxed manner and his drive for ensuring the best possible outcomes.